Now Open: Sunset Review of Antidumping Duties Imposed to Brazilian Imports of Nitrile Rubber (NBR)
21/08/2023
In brief
SECEX* published on 11 August, 2023 an official notice of initiation of a new sunset review investigation concerning the antidumping duties in force against Brazilian imports of nitrile rubber ("NBR") originated from South Korea and France (Circular No. 29, dated of 10 August, 2023).
The investigated product is used by the general industry, in the automotive industry, and in the segment of mineral oils, which require strength, as well as great resistance to heat and abrasion. More specifically, it is applied in "o-rings", membranes, bellows, tubes and hoses, either for hydraulic or pneumatic applications, or for the transport of aliphatic hydrocarbons (propane and butene), conveyor belts, friction material, roller covers for various purposes, especially for the textile painting industries, and soles for safety shoes.
The duties remain in force throughout the investigation and, at the end of the proceeding, they may be renewed for another five years.
The complete SECEX Circular is available here.
---
Relevance of interested parties participation
Active participation of importers, exporters and any other interested parties in the sunset review may be decisive to ensure a more favorable final determination to the interested party in question. Interested parties can submit their applications to participate in the proceeding until 4 September, 2023, provided that they demonstrate the extent to what they are affected by the measure in force.
Furthermore, interested parties may request that an assessment of public interest be conducted in parallel to the antidumping investigation. Within the scope of this related process, the authority will analyze, based on economic information and studies submitted by the parties, whether the extension of the antidumping duty in force is a measure that serves the public interest or whether its suspension or alteration would better serve such a purpose.
---
More details
Please see in the chart below further information about the investigation: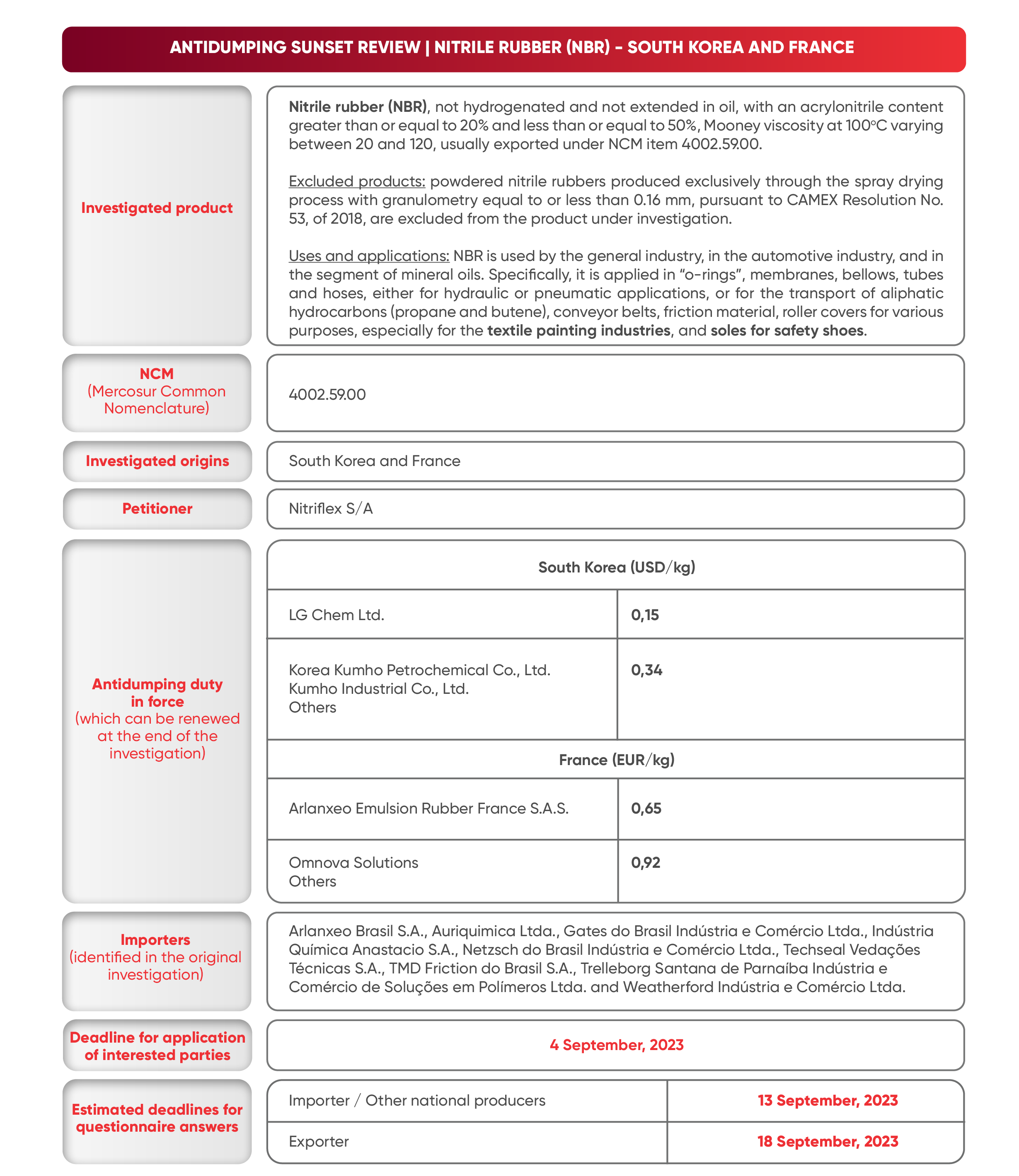 Sources: Circular SECEX No. 29, dated of 10 August, 2023, published on 11 August, 2023, and CAMEX Resolution No. 53, dated of 10 August 2018, published on 13 August 2018.
---
*The Brazilian Secretariat of Foreign Trade